Penstemon, 'Huskers Red' (Penstemon digitalis)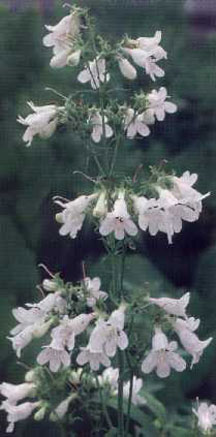 | | |
| --- | --- |
| Light: | Sun |
| Flowering: | Summer |
| Soil: | Any well-drained soil. Drought tolerant. |
| Height: | 24 to 36 inches |
| Color: | White flushed with pink. Bronze red foliage. |
| Hardiness: | Zone 4 |
| Uses: | Mixed beds. foliage interest. cut flowers. hummingbirds |
| Care: | Color best in full sun and cool conditions. Divide at about 3 years to maintain vigor. |
| Native: | No |
Comments:
This was selected as the 1996 perennial plant of the year by the Perennial Plant Association. It is a tough and attractive specimen that
was bred from the prairie penstemon native to our area. The showy white (sometimes flushed with pink) flowers appear in early to mid-summer on spikes that range from 24 to 36 inches tall. These contrast beautifully with the reddish foliage for which the plant is named.

As with all penstemons, good drainage is essential. A fairly sunny location is also recommended. New plants should be spaced 18 to 24 inches apart. Division every 2 or 3 years is usually needed to maintain vigor. Plants may self sow but seedlings do not always come true; in particular, the red coloration of the foliage is often lost.